Paul Gray - Director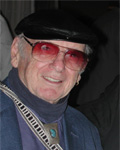 P.T. Gray is an independent auteur film director interested in visualizing and dramatizing the inner lives and states of mind of the characters he creates on the screen. His films have been screened at the New York, Berlin, Trieste (Italy), Grenoble (France), Toronto and San Francisco Film Festivals, among others.
Brooklyn and Greenwich Village bred, he was educated at five universities including Brooklyn College (where he took his B.A. Degree), New York's New School for Social Research and Columbia University. His major studies were World Literature, Psychology, History and Political Science. He holds a Masters Degree in Theatre Arts from the University of Iowa and for seven years was Head of the Theatre and Film Department at Bennington College in Vermont.
He was one of America's foremost avant-garde theatre directors. He was profoundly influenced by Yevgeny Vakhtangov, the brilliant disciple of Konstantine Stanislavski and the director of the Third Studio of the Moscow Art Theatre. Like the great Russian director before him, Gray concentrated on "fantastic realism" generated by vivid subtextual imagery. He trained and directed his Actors Ensemble Theatre in original productions of more than two-dozen plays ranging from Strindberg to Sartre to Beckett to Ionesco to Brecht. Among these, Duerrenmatt's THE VISIT (original version) and Artaud's THE CENCI were American premieres. He put five of these plays into repertory for the ensemble's Avance Projet Repertory Company, sponsored, in part, by Elia Kazan and Robert Lewis. With each ensemble production they attempted to achieve what Gray called "The Theatre of the Marvelous."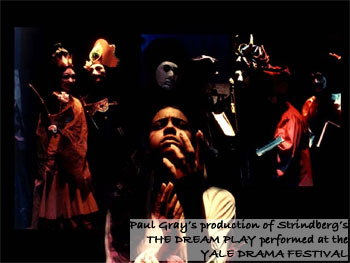 Gray was also a Contributing Editor for The Drama Review (TDR), at that time the most important theatre publication in the English language. He has published more that twenty articles and treatises, including "The Theatre of the Marvelous," which has been translated into eight different languages. He was particularly responsible for the "Stanislavski In America" issue (re-published in hard cover and paperback books) to which he contributed a 39-page Critical Chronology outlining how and under what circumstances "The Method" came to America. He has also published interviews with such luminaries as Michel Saint-Denis (founder of the Old Vic Theatre School), Harold Clurman (original Group Theatre director), Aaron Copeland (legendary composer), Ingmar Bergman (legendary auteur director), Peter Weiss (author of Marat Sade), Frenchman Roger Blin (original director of Genet and Beckett), Lindsay Anderson (British director of "If"), Vilgot Sjoman (Swedish director of the erotic "I am Curious Yellow"), Jean Jaques Lebel (French Happenings specialist), Lee Strasberg (acting guru), Stella Adler (renowned actor trainer), Barbet Schroeder (French new wave filmmaker), Kim Stanley (premier American actress) and Elia Kazan (famed theatre and film director), among others.
Gray has lectured extensively on theatre subjects throughout the United States and abroad. Known as a seminal thinker, he predicted correctly the demise of the golden age of theatre in the 1970's. He watched in horror as a vital theatre, with many companies actively engaged in extending the boundaries of theatrical art, suddenly "freaked out" over "happenings," non-structured events and lopsided political savagery with each side of the political spectrum preaching to their own choirs. "Free play" was the catch phrase of the day and Hamlet was brought down to the size of the actor rather than the other way around. As a result, the theatre collapsed and regressed. The vital experimentation that characterized this golden age of theatre was soon relegated to the universities, the majority of which found themselves reduced to mimicking standard Broadway fare. A few, such as the Herbert Blau group at Oberlin College, continued to experiment.
Gray had seen the regression coming. He tried to spread the alarm in a series of articles and lectures, but to no avail. He was becoming restless. Turning his attention to environmental improvisational theatre, which had long interested him, he conceived and directed audience involvement productions of Ionesco's The Chairs and Duerrenmatt's The Visit. He took his experiments a step further when he conceived and directed "CH. BARRAGE, apres la guerre, la guerre", sponsored by a radical publication at the University of Wisconsin during the student revolutions. According to a study later conducted by the Philips Corporation, this was the world's first purely interactive multimedia drama (with 600 spectators role-playing for an entire evening).
Gray's Ensemble Theatre production of Pablo Picasso's "Desire Caught by the Tail" was a pure revelation - his actors' ensemble built and expressed characters imbued with the artist's startling images right in front of the spectators. With this production, Mr. Gray's theatre experimentation peaked and, perhaps fittingly, was his final theatrical production. Gray, always intrigued by the motion picture medium, purchased a camera and began to experiment with applying subtextual imagery to the grammar of filmmaking in a series of short films. He was fascinated with the potential of the film medium to express, in vivid images, the subterranean worlds existing beneath the text. He taught himself moviemaking.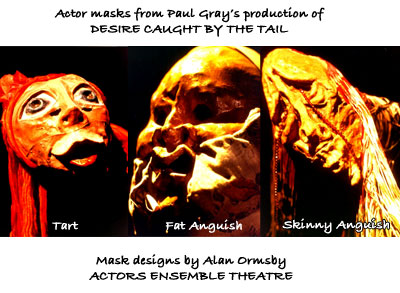 Unknown to him at the time, a milestone event in his life as an artist was about to occur. While in Europe interviewing directors who were working in both mediums for a special Film/Theatre issue of The Drama Review, he was granted an interview by Ingmar Bergman. A fateful meeting was held in Stockholm, during which the legendary Swedish director, who was working in film as well as theatre, urged Gray to switch to the film medium. For Gray it was an epiphany.
Gretchen Gray, who was present, described the meeting in a recent television interview.
"Paul had developed a production method in the theatre where he built an image world underneath the text of a play. These images were used by the director, the actors, the designers so that the entire production was part of one image pattern. Ingmar Bergman was intrigued by an article in The Drama Review that Paul had written on his image experiments, so he consented to an interview with Paul in his Stockholm offices. It was during this meeting that he told Paul he should be working in film where he could put all those images lying hidden beneath the text in the theatre up onto the film screen."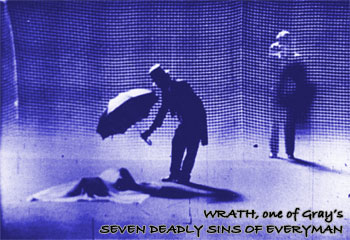 Paul set about perfecting his work in the new medium. He turned away from the theatre and never looked back. He created his own studio, the Gray Film Atelier, in Brussels and brought it to New York. Modeled as an MGM-in-miniature, the studio also served as an apprentice-training program for young directors-in-residence from around the world. Wearing both teacher and producer hats, he produced about 100 of their short films, overseeing them from original idea to their realization on the screen. He also produced and directed films of his own. He was mastering the specialized language of film in shorter works, much in the way D.W. Griffith did in his early years at the Biograph Studio, prior to moving on to full-length works. Gray took a similar route with his production of EVERYMAN, his first long feature.
Moving to Los Angeles, he formed Atelier Pictures in collaboration with Gretchen Gray and continued filmmaking on the West Coast. All told, eight festival-quality films (from 15 to 30 minutes in length) were produced under his direction. They were screened at the New York, San Francisco, Grenoble (France), Toronto, Trieste (Italy) and WorldFest festivals among others. Gray is now ready to move ahead with full-length works.
During this time, Mr. Gray had been formulating the theories, concepts and practice of film directing. From his base in Santa Monica, he taught Film Directing and Script Revision seminars to industry professionals in Hollywood (four times a year) and in 24 of the major film centers of America and Europe (Paris, London, Rome, New York, Toronto, Vienna, Munich, etc.). During this time, he also became known for his structural and analytical work with screenplays. Over the past several years and continuing to date, he has served as a Creative Script Consultant for perhaps as many as 100 Hollywood Films (Fox, Columbia, NBC, CBS, HBO, Miramax, TNT, Lifetime, Independents, etc) - some in secret, some credited.
In addition to his movie work, Gray, as always, is devoted to exploring and pioneering new media formats, pushing the boundaries of interactive filmmaking.
The new digital formats have revitalized and set the stage for the return of the film auteur with all its inherent highs and lows, rewards and dangers. Mr. Gray's studies of interactive conception, composition, navigation and game theory have been all inclusive. He was a keynote speaker ("Metaphors for the New Millennium") at the multimedia conference sponsored by the Philips Corporation in Dusseldorf, Germany -and again at the Academy of Television Arts and Sciences in Burbank, California. Gray is an ongoing member of the Production Executive Peer Group of the Academy.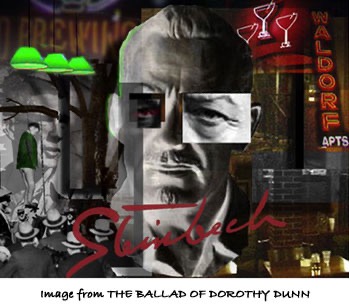 He has recently turned his attention to applying these new concepts to several interactive digital works-in-progress he is developing for Atelier Pictures. These include cyber projects such as STEINBECK & COMPANY, beginning with a prototype, THE TRIAL OF WILLIAM RANDOLPH HEARST. He is currently originating a new script format for CAFÉ DEL MUNDO, a ground-breaking interactive movie the Atelier intends to distribute "live" on the internet and in DVD format as well.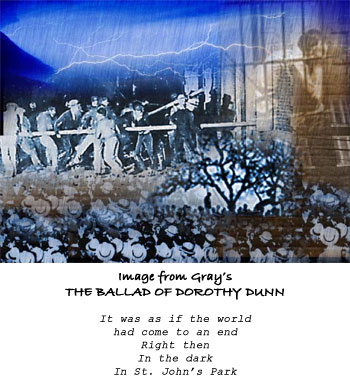 Besides these digital works-in-progress, an anti-war film and two sweeping epics, THE RETURN OF THE QUEEN OF SHEBA, an occult political parable, and CLIPPER SHADES, an historical epic of the Northwest (1870-1900) are also in the Atelier development pipeline.
Gray's most recent production, THE BALLAD OF DOROTHY DUNN, is an epic agitprop music drama set in Central California during the Great Depression of the 1930's. The film explores the psychology of crowds and power and the inevitable and tragic consequences when they ignite. Traditional realistic narrative styles are inter-cut with computer generated motion graphics to express this theme. This film will be put into distribution in 2008.