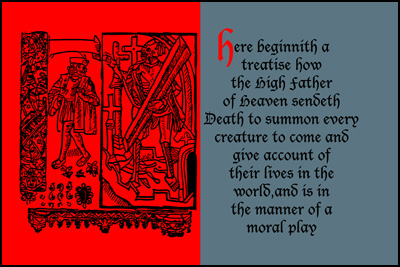 Everyman

An independent film by Paul Gray
Featuring Douglas Freeman and Gretchen Gray
Produced with a grant from the National Endowment for the Arts
To be released in 2009
Test previews underway

A futuristic allegorical adaptation of the 15th-Century English morality play of "Everyman". The film version is set in an oppressive, post-apocalyptic society in which the lives of the remaining population (the outer sector) are controlled by a demagogic elite few (the inner sector) through the use of a demonic computerized surveillance system. It is against this regime that Everyman rebels. The story takes place in the not too distant future.
An earlier version of the film was test-screened at the markets of the New York and Berlin Film Festivals years back, where we determined that it was too far ahead of its time. The societal structure pictured in the film seemed unbelievable. The film was subsequently filed away, unseen by he public. That was then. But given the devastating impact of the Bush/Cheney and other contemporary regimes of the same ilk (unthinkable when the movie was first created), we realize that the film was prophetic and the time for Everyman is now! The film has been digitized for the upcoming DVD release and will be introduced to audiences for the first time.
The film of Everyman deals with no recognizable country or regime; it is simply an allegory for our time. Its themes, story composition and cinematic styling are original to Paul Gray. Like Francois Truffaut and Chris Marker, French New Wave filmmakers of yesteryear, who addressed similar subjects, he has been referred to as an experimental auteur. Gray wrote, directed, edited and produced this version of Everyman. A signature of all of Paul Gray's films, there is a rich concentration of sub-textual imagery. This is exemplified by his expressionistic "Seven Deadly Sins" sequences, the personal nightmares of Everyman.
The main thrust of the movie is the intense interrogation of Everyman by the Inner Sector in an attempt to break his spirit and force him to publicly admit to being an Enemy of the People. The Inner Sector perceives Everyman as a possible revolutionary leader. Paul Gray's interest in this dramatic through-line was fueled by his researches into the real life events surrounding the murder of the great Russian theatre director, Vsevolod Meyerhold (arguably the most imaginative and original director of the 20th Century). Meyerhold was executed by the Russian state and his wife was brutally murdered by them as well. His only crime - the use of his imagination. A feisty, obdurate character, he refused to kowtow to the state proclaimed Leninist concepts of socialist realism as forcibly imposed by the Stalinist regime on all Soviet artists of the day. Instead he made a daring public speech championing the freedom of artistic expression as essential to a free society. For this and this only, he was tortured and caused to disappear from the face of the earth. Gray's film of Everyman is dedicated to the memory of Meyerhold, a passing the torch.
The traditional Everyman is an ordinary individual with whom the audience readily identifies, who is placed in extraordinary life and death circumstances. The question is raised as to whether our contemporary Everyman, his life measured by an original interpretation of the character of Death, will overcome his human fallibilities and rise up against a repressive regime? Who in his life on earth will follow him in this quest? Fellowship? Goods? Beauty? Knowledge? Strength? his Kindred? his Good Deeds? Who?
Produced by Atelier Pictures
in black & white and color
1 hour 45 minutes


Portraits from Everyman



Douglas Freeman as CODE NAME EVERYMAN
Photo by Ronald L. Glassman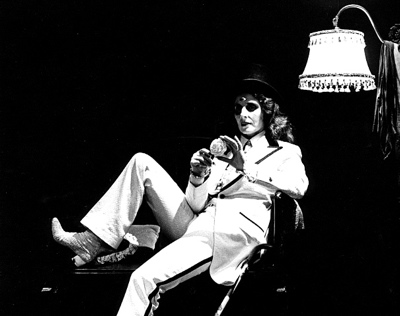 Gretchen Gray as the allegorical character of DEATH
Photo by Ronald L. Glassman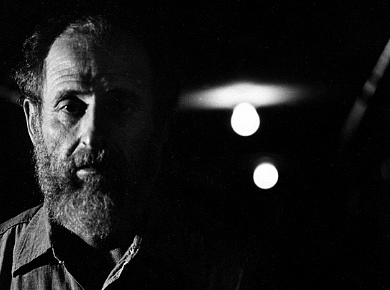 CODE NAME The Falsely Accused
Photo by Ronald L. Glassman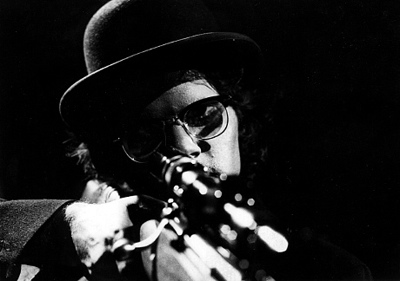 CODE NAME The Voyeur
Photo by Ronald L. Glassman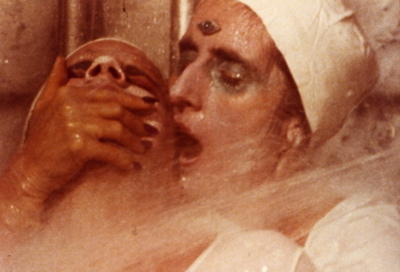 Death of the Voyeur from LUST (7 SINS)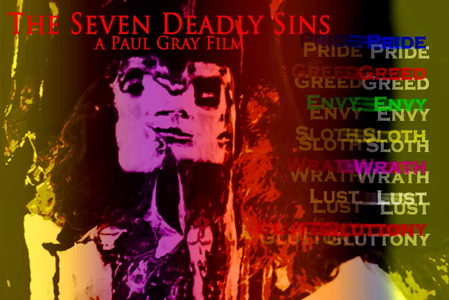 Lobby card for THE SEVEN DEADLY SINS OF EVERYMAN
graphics by Daniel Mahoney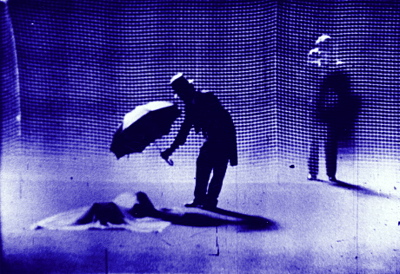 Frame from WRATH (7 SINS)


SHADES OF GRAY
Three Festival Featurettes
To be distributed on one DVD disk (2008)
Includes the following films: Aphasia
Produced, written and directed.
Science Fiction and Psychological Fantasy. Featuring Gretchen Gray and Frank Baker and members of the Actors Ensemble Theatre. Filmed at the McCullough Mansion in North Bennington, Vermont.
Dr. A., a controversial Jungian psychiatrist, working with young criminal personalities, attempts dangerous experiments with hypnosis and archetypes. When she is found to be missing, her colleague, Dr. B., explores the audiovisual records of her experiments in an attempt to determine what became of her.
Filmed at the McCullough Mansion in North Bennington, Vermont and edited on the island of Ios in Greece.
An eerie mystère
30 minutes.
Note: APHASIA was screened at the Psychic Film Festival in Montreal and New York and at the Festival Internazionale del Film di Fantascienza in Trieste, Italy.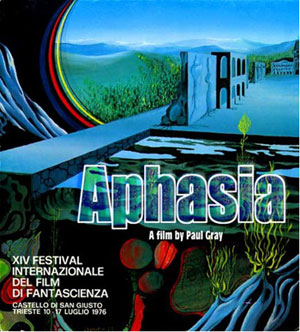 P.I.N.S.
Produced and directed.
Screenplay by Gretchen Gray.
Controversial dramatized documentary.
B&W, 22 minutes.
Incarcerated youngsters help to create their own poignant story of what it was like to spend the first day and night in a home for wayward children. The filmmakers, as represented by the National Legal Director of the ACLU (the Pentagon Papers lawyer), fought off a frivolous 1.5 million dollar First Amendment lawsuit to relieve the restraining order placed on the film.
Note: PINS was accorded a standing ovation when it was shown at The Festival International du Film de Court Metrage et du Film Documentaire, Grenoble, France.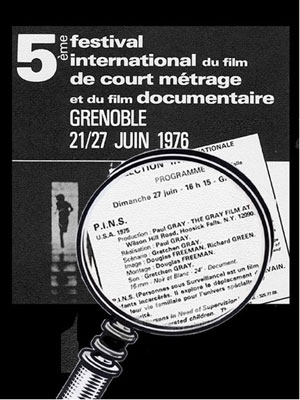 Starfish
Produced and directed.
An occult mystère based on the story, LE MIROIR, by Claude Seignolle, the famed French author of tales of the supernatural and fantastique. It was adapted for the screen by Claudia Casper, a prize-winning Canadian writer.
Production Design by Don Llewellyn
Set in 1937, it tells the story of a Garboesque actress of the silver screen who had undergone plastic surgery on her face which had been disfigured in an automobile accident. Secluded in a small village overlooking the sea during the Hispanic Day of the Dead celebration, she awaits the trauma of removing her mask-like bandages to see what God and Fate had wrought. Filmed on locations on California's Central Coast, STARFISH is a haunting story with a surprise ending, told in a style reminiscent of Edgar Allen Poe.
Starring Gretchen Gray with contributions by two Academy Award winners in the areas of special effects and sound mixing.
35mm Panavision
22minutes
Note: STARFISH won the Bronze Prize at WorldFest, the Houston International Film Festival