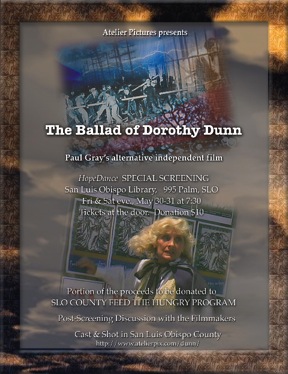 May 15, 2008
HopeDance hosting a special screening of Paul Gray's alternative independent film, The Ballad of Dorothy Dunn.

San Luis Obispo Library
995 Palm, San Luis Obispo
Fri & Sat eve, May 30-31 at 7:30pm
The Ballad of Dorothy Dunn
An agitprop music-drama set in 1930's California during one of the most turbulent labor strikes in American History. A Catholic activist (character inspired by the legendary Dorothy Day) seeks to steer a humanitarian course through the clashing rocks of right and left with advocates.
Expressionistic multimedia techniques - original songs, motion graphics, headlines, radio broadcasts and newsreel clips add insight into the narrative.
Tickets at the door. Donations $10.
Portion of the proceeds to be donated to SLO County Feed the Hungry Program
Post-Screening Discussion with the Filmmakers
Cast & Shot in San Luis Obispo County
http://www.atelierpix.com/dunn